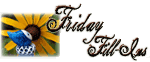 This week Janet took the first sentence in 6 of her favorite books and gave us the option to either complete the quotes or fill them in with our own words. I've chosen to fill them in with my own.
1. In a hole in the ground there lived
Digger
. (Yes, we watch NASCAR at our house.)
2.
I've got too many books
but that ain't no matter.
3. After dark the rain began to fall again,
and the sound put me gently to sleep
.
4.
Gold
from the hold of the Spanish galleon.
5. There was a hand in the darkness, and
I wondered if there was a body to go with it
.
6. Accidents ambush the unsuspecting,
so I will be vigilant
.
7. And as for the weekend, tonight I'm looking forward to
recovering from my horrid 4.5 hour commute home tonight
, tomorrow my plans include
a massage
and Sunday, I want to
attempt my first Sunday Salon post
!
Join in the fun at
Friday Fill-Ins
.